Expectations by Sir Lawrence Alma-Tadema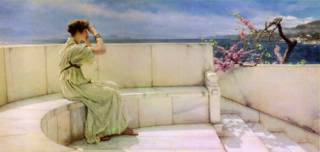 Sir Lawrence's complete understanding of light makes him one of my favourite artists. One can feel the crispness of the air in his work and his detail is unrivalled.
Expectations
was painted in 1885. Go to the CGFA website and also look at Alma-Tadema's
Unconscious Rivals
and see if you can figure out his intriguing use of converging lines and unexpected colours. Alma-Tadema's sense of composition remains fascinating to me in all his paintings. The CGFA's Index (link below) allows one to browse the world's great art at your leisure. (even download for your desktop wallpaper) Don't forget to bookmark the page.

http://cgfa.sunsite.dk/alma/index.html